Scattered
"There are so many things going on in this deeply moving account of a young girl's chaotic childhood and her ultimate escape from a heartbreakingly damaged and damaging mother. Here with vagrant undertones of Holden Caulfield and Eloise on welfare is the mundane terror of a family in disorder, and the mystery of personality and of survival, set within the quietly haunted urban landscape of a now distant New York, the Manhattan of the late 1960's. It is an accomplished and compelling piece of work, and one that deserves a wide readership."
–Ric Burns, documentary filmmaker
"The writing is lively and appealing, and Blau clearly has a gift for storytelling."
–David Hajdu, author of The Ten Cent Plague and Positively 4th Street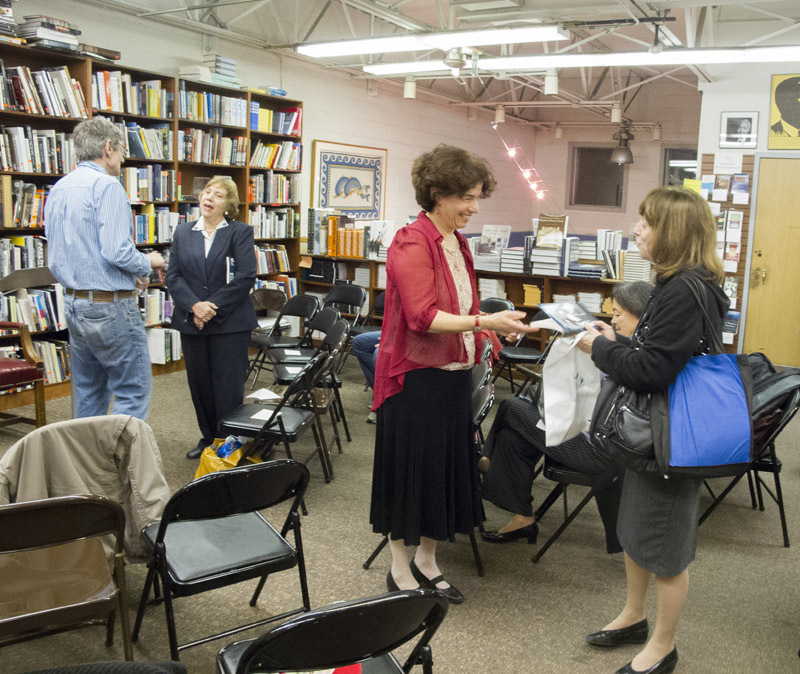 CHAPTER ONE

The Glamour Girl in Queens

"Justine, who are you fighting?"

I was five years old, standing in the nursery school yard, punching the air with all my might, but the teacher's words pulled me back to reality. She watched me, concerned, perplexed, unsure of what to do. The kids on the jungle gym behind me were watching me too. I lowered my fists and walked inside, embarrassed.

The day before, my eyes were glued to my mother while she fought on the street with a large Greek woman. They struggled against each other, their arms overhead, hands gripping and pushing, two hefty lionesses in flowery dresses. Like me, the woman's daughter stood there, but instead of watching her mother, she glared at me.

"Ya stinking schmata rag!" my mother yelled, and shoved the other woman who lurched back.

I didn't exactly know what was going on, just that it wasn't good, somehow connected to the incident when my brother, Jake, had called the Greek woman's daughter fat. Now the mother had lunged at mine. Finally, they fell back, staring each other down until the other woman broke off, spat, grabbed her daughter and left.

"Did you see how I kept my mouth closed?" my mother asked. "She's a nut and it's a terrible thing to fight someone. But if you ever have to fight, protect your teeth by keeping your mouth closed."

Inside my nursery school, I needed to pee, but I wouldn't give in. The teacher, who had followed me in kept watch as I ran from chair to chair, clutching their backs in an effort to control the mounting pressure. Earlier that morning, when my mother dropped me off, I heard the teacher tell her that the nursery school bill was overdue.

Although the teacher gently encouraged me to go to the bathroom, it felt like a matter of pride to hold my pee in, even as I realized it was a losing battle. With a mixture of shame and relief, the hot, wet pee spread across my bottom and down one leg of my bright blue corduroy pants. Quietly, the teacher handed me a pair of dungarees and I put them on.

The four of us—my older brother, Leo, who was fourteen, Jake, eleven, my mother and I—were living in Astoria, Queens, in a sunny three-bedroom co-op apartment development. Trees and bushes clustered around benches between the 14-story buildings, framed by well-cared-for lawns. Playgrounds for little kids and asphalt courts where the older kids played half-court basketball, football and catch, punctuated the quiet community.

I had my own bedroom and on weekends Jake played house with me. We'd drape a blanket between a small table and chair in the living room, crawl underneath and play checkers or the card game War. At night I chanted to my brothers, "Tell me a story, sing me a song," and they would.

There was the story about the little man who climbed up the brick wall to our fifth-floor apartment and Leo gave him my nutted cream cheese sandwich on raisin bread that Mom had brought back from Chock full o'Nuts in Manhattan. I hadn't been able to finish my sandwich and left it in the fridge to have for breakfast, but in the morning it was gone. Leo explained what happened.

"In the middle of the night, a tiny old man climbed up to our window and knocked on it and said his wife was very hungry and could she have something to eat. So I gave him the cream cheese sandwich on date nut bread. I felt sorry for him."

I was delighted that he gave the sandwich to the little man. I loved believing the story, and soon after, when I realized he'd made it up, I also loved knowing that he had concocted such a story.

Some days when my brothers were at school—Leo at the Bronx High School of Science and Jake at PS 112—Mom would take me with her to Manhattan for the day where she'd shop or go to a lecture or other grown up things, and we'd come home at twilight on the elevated RR train. In hot weather, the train's slow-moving overhead fans were useless against the humidity, and the torn wicker seats stuck to the back of my legs and pulled at my skin when I got up. But I inhaled the aroma of freshly baked bread from the Silvercup factory near Queens Plaza and rested my cheek on Mom's plump upper arm. Her skin was cool and comforting.

One Sunday morning in June, nearby church bells woke me up. From my bedroom window I could see the big kids' play-ground where just one kid, a friend of Leo's, wearing a Jughead hat, squatted to play a game of skully with bottle caps on the ground.

I got out of bed and picked up my coonskin cap. My toy chest was filled with my older brothers' old costumes and toy guns, the red and white cowgirl outfit my father had bought for me, and lots of stuffed animals. I had plenty of dolls too, who sat in their doll carriage with its lavish pink ribbon.

I walked out to the living room and planted myself on the chartreuse vinyl couch, watching unnoticed as my mother puttered around the kitchen.

My mother had radiant skin, sparkling brown eyes, straight white teeth, a Grecian nose and lustrous black hair—a Jewish Jackie Kennedy she called herself. Except she was heftier, zaftig; if I put my arms around her, I could not completely encircle her girth, but she said men liked women that way. Her mother told her she didn't need to learn how to cook because she was so beautiful that she'd marry the governor and she could hire a cook. But my mother married my father, a policeman, and we had to make do with her inventive cooking.

Although it was already two months since Passover, my mother was making matzoh brei with the leftover matzoh in the house. Her original recipe.

"People who follow recipes are anal retentive," she'd say, as she threw in some farmer cheese, applesauce or raisins. I ate, but whenever a Betty Crocker commercial came on TV, I was ready to trade my mother for one of those moms who baked cakes, fussed over the laundry, and kept a neat house.

Our dishes didn't match and my mother set a scattershot table, plopping forks and knives in a heap. But there were daisies in a vase, and she wore lipstick and a bright scarf in her hair.

Mom put some matzoh brei on a plate for herself and sat down at the kitchen table with a copy of the New York Daily Mirror.

"That f'shtinkener should drop dead, dumping a lovely girl like that."

I went in and sat down next to her.

"Mommy, you're talking to yourself."

She looked at me.

"Justinele. My little queenele."

"What are you reading about?"

"That Eddie Fisher. A few years ago he divorced Debbie Reynolds to go run off with Elizabeth Taylor. Debbie Reynolds hasn't gotten over it."

I took a daisy out of the vase and put it behind her ear.

"Here, Mom, you could use a touch of color."

She laughed. "You're funny, you know that?" She kissed me on the cheek, and I instinctively rubbed at the red lipstick left behind.

"Speaking of f'shtinkener men, you didn't get your father a Father's Day present, did you?"

"Uh, no."

"He's lucky I even let you kids see him on Father's Day. Jake didn't get him a present, did he?"

"I don't think so," I said. I got up and left.

As I walked toward my room Jake whispered to me.

"Justine, get in here."

The boys had matching multicolored woven covers on their beds, but otherwise the room reflected their two completely different personalities. On his side, Jake had a bookshelf full of Bat-man and Superman comic books and Mad magazines, and a box of baseball cards. Leo had a desk with a Bronx High School of Science banner over it; his schoolbooks; a 1960 set of the Book of Knowledge; his acoustic guitar; and songbooks of The Weavers and Peter, Paul and Mary.

Jake sat cross-legged on his bed wearing his black-rimmed glasses and striped pajama bottoms with no top because it was already getting hot. At eleven, he was six years older than me, and anything he did was important. At that moment, he was making a card, drawing an intricate picture of interlocking cubic shapes in purple, blue, red, and orange with colored pencils.

I sat close to him as he read out loud: "Dear Dad, Happy Father's Day, Love, Jake."

"It's beautiful," I whispered. "Will you marry me?"

I glanced at Leo asleep in his bed. He had the sheet pulled over his face so only his black curly hair was visible. I didn't want to hurt his feelings but Jake was closer to my age and he played with me more.

"No," Jake said, although I could tell he was flattered. "You know brothers and sisters can't do that."

Quietly, he shut the bedroom door and pulled a gift-wrapped bottle of Old Spice aftershave from his dresser drawer.

"Look, I got Dad a present for Father's Day. If you chip in a dime or something you can sign the card."

"Mom would be mad if she found out."

"Well, she won't. Anyway, what's the big deal?"

"Leo didn't sign it."

"That's because he's afraid."

"Watch it," Leo said, no longer trying to sleep.

"It's true."

Leo threw off his sheet and sat up, frowning. "Shut up."

"Stop it," I said.

Jake put his hand on my shoulder. "Juz, you want to give Dad something for Father's Day, don't you?"

I nodded.

"So, just sign it. You only have to give me a nickel."

I found a pink pencil and carefully wrote my name.

"Troublemaker," Leo said as he got up and left the room. His hair, piled on top of his head from sleeping, looked a little goofy, but Leo was handsome. He had a high forehead, very white even teeth (the work of orthodontia, back when Dad lived with us) and a strong chin. When he smiled his whole face lit up but he wasn't smiling right now. He wandered into the kitchen and sat down.

Mom greeted him. "Hi, honey."

She put some matzoh brei in front him as Jake and I fol-lowed. Jake grabbed a plate, spooned a load of matzoh brei on it and moved toward the TV set.

"Don't you dare," Mom said. She wanted Jake to eat at the table.

Jake and Mom stared at each other. Jake didn't let the fact that Leo was her favorite stop him from claiming his share of attention. I loved him for that. Now he sat down at the kitchen table and I joined him. Mom scraped the last of the matzo brei on a plate for me.

"So, you're going to the beach."

"Yeah," I said.

"Your father and I went to Venice Beach in California on our honeymoon. Have I ever shown you the pictures?"

"Only about a million times," Jake said.

"I love those pictures," I said.

"Want to look at them again?"

"Okay."

The boys looked at each other and in one movement they grabbed their plates and headed for the TV. They settled onto the couch and tuned into an I Love Lucy rerun.

Mom opened a photo album and I sat next to her as she leafed through the pages of black and white photographs stuck on with self-adhesive corners. There was the graduation photo of her in a Hunter College cap and gown, the first girl in her extended family to go to college. Her parents had come to America from Russia and Latvia as teenagers, and her mother learned English and got her high school diploma. At Hunter, my mother took classes in psychology and education, but recalled proudly that she didn't study hard, not like that grind Joyce Bauer, who later be-came Dr. Joyce Brothers. Instead, my mother would leave classes early to wander the halls, socializing and starting clubs.

She's gorgeous in a honeymoon photo in Los Angeles, sporting a wide-brim hat and hooking arms with my father in his army uniform. Orson Welles noticed her when my parents toured the RKO studio, and arranged a screen test for her.

"Here we are in the commissary. See, Mommy had thin thighs then."

"Mom, do you think you and Daddy will ever get back together?"

"Would you like that?"

"Yeah."

"Well, Daddy and I are divorced now."

"I know that. Do people ever get undivorced?"

"Sometimes. Why don't you ask Daddy about it?"

I rested my cheek on my mother's arm.

"See what you can do," she said.

My father picked us up at ten sharp, as he did every Sunday morning. He stepped out of the car wearing sunglasses; a navy blue cap covered his balding head, and at first he seemed too tall and remote. Then he kissed me on the cheek and bent down to hug me. It came back to me then, that feeling of closeness to him. I had to relearn that every time I saw him. He kissed Jake while shaking his hand, and then did the same with Leo. Jake had explained to me that a lot of fathers stop kissing their sons after they reach a certain age, and he was glad that Dad still kissed him and Leo.

We handed Dad our bathing suits, and he put them in the trunk of the old Rambler where the rest of his things were carefully packed. He always brought towels for us, each towel neatly rolled up in two rubber bands, and he had everything else we might need in an emergency: not just jumper cables and a funnel to change the oil, but a canteen filled with water, paper towels, a sweater folded up small in a plastic bag with rubber bands and marked "sweater," a wool cap, also wrapped in plastic, clean cloths to be used as rags, tissues, a baseball cap, a spare towel, a knife packed in cardboard marked "utility knife," string, and a deck of cards.

On the way to the beach I counted three rabbits in the grass along the road. Dad drove with both hands on the steering wheel, often commenting on how important it was to stay two hundred feet behind the car in front of us and explaining other rules of the road.

Dad believed in obeying laws, and the boys loved to pump him with questions about what he knew and what he thought about things.

"Where's your gun, Dad?"

He had been a police captain and the boys remembered when he kept his policeman's revolver in his top dresser drawer at home. Years later, he told me he kept his gun for decades after he left the force in case my mother tried to commit an act of violence against his second wife, Gisela.

When we got to the Jones Beach parking lot Dad made sure we all helped carry stuff. In the bathhouse, I changed into my red, black and white checked bathing suit with the ruffles. Then Dad rented a giant striped umbrella from the stand, and we began trooping across the huge expanse of hot sand to find a spot. We passed teenagers lying in the sun listening to "Surf City" on transistor radios, children making sand castles, women with sun reflectors perched on their chests.

My father pointed out that the land around the beach was unspoiled by development, that the bathhouses were clean, that there was a first-aid station, well-run swimming pools and concession stands. We learned that Jones Beach was opened to the public in 1929, when my father was eleven. He admired reformers like Mayor LaGuardia and FDR; it thrilled him when the government and institutions worked well for the people.

"We'll set up here." Dad put down his load and began digging a hole for the umbrella. "Lend a hand, boys!"

He used big, jerky movements, overreacting to the chore. We thought it was comical, but the boys knelt down and helped dig the hole anyway and when it was deep enough, I held the umbrella in place while they filled up the hole with sand and packed it tight.

"Well done!" said Dad. "Next, the blanket!"

Dad unfolded the blanket and carefully laid it next to the umbrella.

"Okay, now secure the corners!"

We quickly put our sneakers on the corners.

This is what it was like with Dad. When he took us fishing, he made sure we all had fishing rods and the right bait. If we went to the movies, he bought us popcorn. He always paid full fare wherever we went and never tried to cheat.

After we had set up our things nicely, Dad took me by the hand and we went to the water. He showed me how to do strokes and kick my legs, holding me in his strong arms in the shallow water as I practiced.

Then came lunch. Dad laid out a tablecloth and opened a meticulously packed straw picnic basket. Inside were sandwiches that he'd made, neatly wrapped in waxed paper and labeled.

"What have we here? Tuna on white! Who's for tuna on white? Going once, going—"

"Me, Dad," one of us would say.

"There's a taker. Now, bologna on rye with mustard…."

He'd hand out the rest of the sandwiches and pour out cups of cold lemonade from his thermos, patting dry any drops that fell. He had a Tupperware container filled with perfect ten-minute hard-boiled eggs marked "HB" on the shells, as well as a little shaker with salt and pepper. There were celery and carrot sticks in plastic bags and for dessert a Sara Lee pound cake. His attention to these details seemed fanatical to me even as I was mesmerized by it. Before you ate you set up everything nicely; you had regular food first, dessert afterwards. When we finished eating, he made sure we "policed" the area, to pick up every scrap of paper we may have left behind.

The meritocracy of the police force, how you advanced through the ranks based on exams, suited Dad, although he didn't feel a kinship with the majority of cops. He felt he had to hide the fact that he was a liberal, that he deplored the racism and police brutality he witnessed in the police force at that time.

After lunch we helped Dad put the leftover food away. Then Leo picked up his paperback of Great Expectations and started reading. That's when Jake took out the card and gift-wrapped bottle of Old Spice aftershave. He was getting ready to give it to Dad when I suddenly remembered I was supposed to try to get Dad back together with Mom.

I put my hand on my father's arm. "Daddy, do you think you and Mommy—"

"Justine!" Jake glared at me. "Are you nuts?" He turned to Dad. "Dad, we got you a little Father's Day gift." Jake handed the present to Dad.

My father took the present and turned it around in his hands. He put his hand on Jake's shoulder.

"This is really nice. Thank you, Jake," said Dad, as he carefully opened the gift wrap. "Just what I use."

"And I made you a card, Dad." Jake smiled bashfully as he showed the card.

My father took it. "Jake, you made this?" He patted Jake on the head, as he read it. "It's really nice."

Dad sighed. "Listen, Jake, Justine, Leo, there's no good time to tell you this. I've been meaning to tell you…." He looked down, hesitating. "Kids, there's something important I have to talk to all of you about. I met a nice woman."

He had our full attention. "And, well, I'm getting married." His eyes kept darting around, without looking at us.

At first I didn't understand. I thought he meant he was marrying my mother again.

"Her name is Gisela. She has four sons. You'll like her."

We were quiet on the way home. I was in shock, not so much that Dad was going to marry another woman, but that he would be living with other children instead of us. I didn't want to think about Dad with those other kids, because when I did I imagined that they were better than us, that their lives were organized.

Leo sat in the front, his arms folded, staring out the window. Jake sat next to me in the back, his brown eyes melty with sadness. I wanted to comfort him and was amazed when he mustered up the spirit to ask Dad a question.

"How old are her sons?" Jake asked.

Leo turned around to face Jake, his face contorted. "Who cares? What difference does it make?"

"The twins, Harry and Billy, are eleven. Lloyd is ten, Ray is nine," Dad said.

That was all the information we could take. They weren't older, leading lives of their own. Dad would be like a father to them. At least I was the only girl and the youngest.

When we got to Queensview, Leo just took off upstairs without kissing Dad goodbye. Jake and I took our kiss from Dad, who tried to make us feel better by giving us hugs. It did make me feel better.

I don't remember who told Mom, but she took the eight-by-eleven sepia wedding photo from her dresser and smashed it on the floor.

"That miserable son of a bitch." Her voice sounded unnaturally deep, not like herself.

"Mom, take it easy," Leo said.
The boys and I were standing close together and she saw how frightened we were.

"Okay, okay."

Jake went for the broom and shovel and started to sweep up the glass.

"Be careful," Mom said. Leo helped Jake clean it all up.

"He's got his concubine. Well, I've got you kids. That's one thing he can't take away from me."

My mother drifted away to the TV and sank into the couch. Patti Page was on The Ed Sullivan Show singing "So In Love With You Am I."

I went to her closet and took out her pink cocktail dress with the sequins that she wore on special occasions. I brought it to her.

"Mom, do you want to put on your dress? It'll make you feel like a glamour girl," I said.

"Not tonight."

In the months that followed, Mom alternately slept a lot and was restless. She took me to Manhattan more and more. One night when we came home the apartment was dark except for a dim light coming from the kitchen.

"Boys? What's going on?"

In the kitchen Leo and Jake were doing their homework by the light of a Yahrzeit candle, the kind of candle we lit on the anniversaries of our grandparents' deaths.

"Forget to pay the electricity bill, Mom?" Jake pointed at the Yahrzeit candle like he was stabbing it.

"Not really. This place is a dumping ground for first wives. We're leaving. We may be moving to Manhattan."

"What?!"

"You kids don't know what I could really do if I had a chance. I could go to cocktail parties—"

"Yeah, yeah."

Mom started singing a Patti Page song, pretending she had a microphone in her hand.


We were waltzin' together to a dreamy melody
When they called out 'Change partners'
And you waltzed away from me.
We saw Dad a few more Sundays after that, until the day Mom locked Jake in the bathroom. She had been packing up our stuff, and the living room was cluttered with cardboard boxes filled haphazardly with our books and other possessions.
I was leaning out the window, waiting to see Dad's car pull up. The yentas were outside on their beach chairs when he arrived and got out of the car, expecting to see us. He looked up at me.
Inside the bathroom, Jake yelled and pounded the door, "Mom! Let me out! God damn it, Mom! Let me out of here!"
Mom paced around, excited. "I'll let you out soon. It's for your own good, Jake!"
Feeling daring, I yelled out the window so my father would know we were home.
"Daddy!"
Mom grabbed me and pulled me away from the window. "Whose side are you on?"
From inside his room, Leo slammed the door shut, loudly strumming his guitar.
The intercom buzzed and Mom triumphantly went to it.
"What do you want?"
"Where are the kids?" Dad asked from the intercom down-stairs.
"You want the kids? Give us more money."
There was a pause.
"That's cruel, Martha."
"Well, you know all about cruelty, don't you?"
"This is crazy, Martha. Don't make the kids suffer because of trouble between us."
"You've got money to pay for your concubine. You can cough up money for the woman who's raising your children.
"I send you a check every damn week. I can't afford any more!"
"You've got a car," she said. "Sell it."
I rushed to the bathroom and pulled away the chair that was holding the door shut. Jake burst out and ran out of the house.
By the time Jake reached the sidewalk Dad's car was just disappearing up the street. Jake ran out and into the street; the yentas watched.
"He left, Jake," one of the ladies said. "Your father was here, and he waited. Then he left."
"Why didn't you come down?" asked the other one. "You keep your father waiting like that—"
But she stopped when the other lady elbowed her in the ribs. Jake stood at the curb.
The day the moving men came Mom was humming happily as she tossed clothes and small items into a box. A moving man carried a box with crystal goblets clinking against each other as he walked. He stopped.
"You might want to pack this up a little more carefully, ma'am. These things are likely to break."
"That's my wedding china. Who cares? When we're living in Manhattan I'll buy some more."
"I'll pack it up better, Mom," I offered. The moving man put the box down and I knelt down and carefully wrapped each crystal goblet in newspaper. But my mother was right not to pack carefully, because we never saw any of our possessions again. It was all sent off to a distant place, "storage" and she never re-claimed it. For years I used to imagine that my toy box and my dolls, and all our furniture and family photos were waiting for us in a huge, dusty warehouse somewhere.